This year has been brutal so far in the cryptocurrency markets. Among the bearish developments, there are a bunch of centralized entities that have filed for bankruptcy, the most prominent of which was Celsius.
In this context, the mantra "without keys, no coins" rings truer than ever. As the contagion spreads through the industry, there is only one way to be absolutely sure that your Bitcoin (and other cryptocurrencies) are safe. And that's cold storage – something I warned about the day the UST peg started slipping.
An $18B stablecoin can't go poof without externalities popping up elsewhere

For E.g, #Bitcoin may be the world's safest money, but only if you have your keys.

Is your custodial lender definitely not attached to US$?

Could be more than Terra going under here, this isn't over

— Dan Ashmore (@DanniiAshmore) May 11, 2022
A few months later, we are still not out of business, despite the initial wave of bankruptcies now in the rearview mirror – including Celsius, Voyager Digital, Three Arrows Capital.
Today I am writing a review of the hardware portfolio BitBox02. Aiming to make it as simple as possible, it will be an objective review of the portfolio describing its advantages and disadvantages.
Detail
Manufactured by Swiss-based Shift Crypto, the BitBox02 wallet retails for $128. The version I am trying allows storing several assets, including Bitcoin, Litecoin, Ethereum and ERC-20 tokens. However, for you Bitcoin fans, who have sweaty hands just reading the word "Ethereum", there is also a Bitcoin-only version. It sells for the same price of $128.
In the box there are several items. Firstly, the wallet comes with a USB-C to USB-A adapter, so this is no problem if your laptop is too old for the now ubiquitous USB-C slots. It also comes with an extension wire, allowing you to plug the device into your laptop while holding it in your hand, connected to the laptop via the cable. This is far from necessary, but a good option.
Finally, there is a clasp that allows you to hang your device on a keychain, belt or whatever you want. There is also a microSD card in addition to the hardware wallet itself.
Oh, and don't forget the Bitcoin stickers!
How to use the BitBox02
First of all, I downloaded the app from https://shiftcrypto.ch/app/.
Then I inserted the microSD backup card into the device. The purpose of the microSD card is to save your wallet in case of loss or damage. There is also an excellent but simple feature to set a universal 2FA option, a bit of security.
On the application screen, I clicked on "Install Firmware". Also, a nice touch – you can press "flip screen" and it flips the screen on the wallet, which makes it easier to read (I only have a USB-C port on one side of my laptop). Then you check that the code on your BitBox matches the one on your laptop screen.
I clicked on "Create a portfolio".
I am forced to enter a password. For this, you use invisible touch sensors on each side of the device. This is a really cool feature, and probably the most remarkable in the portfolio. You can touch and hold the sensors to perform all actions on the device. This adds a nice futuristic touch to the whole.
When setting the password, the operation of the sensors takes a little time, because you have to click on each button several times. So, there were quite a few elements to understand and it's quite tedious. Nevertheless, the process is intuitive and becomes easier once you get used to the settings. Apart from the password – which is manageable – the sensors work very well.
Using the device
The options of the application are excellent. I can set a 2FA, manage my backups, see my wallet balances, watch my transactions – all the basics, in other words. It's minimalistic and easy to navigate, which is what I really need for a wallet – I don't need my cold storage wallet to have a brilliant interface on par with the best built websites on the Internet.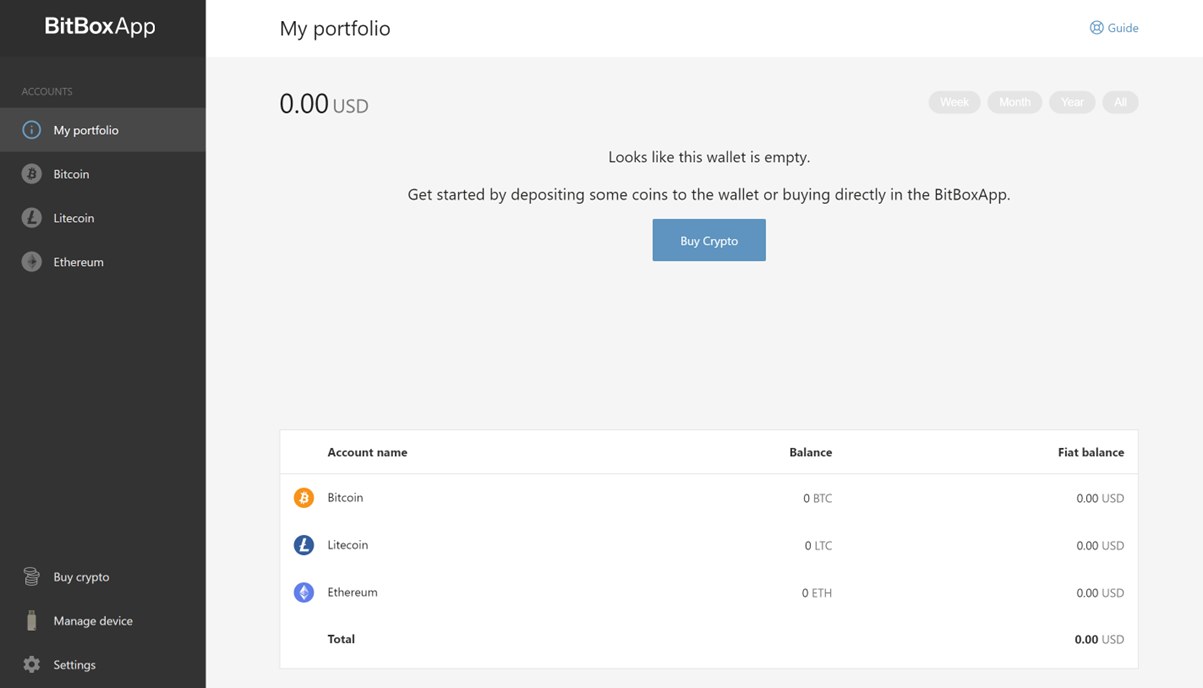 Then I send Bitcoin to my device, easily scanning the QR code on the app. Unfortunately for me, this is the Bitcoin I had left over from my recent trip to El Salvador – maybe I was too ambitious with my expectations of how many merchants would accept Bitcoin there – but I can't really blame BitBox for that, can I? So, my $360 in Bitcoin goes into the hardware wallet.

Once that's done, I'm sending it back off the device, just so I can tell my dear readers what it's like to withdraw too (the things I do for you!). Well, it's… easy. There's not much to say. You type the transaction, then via the touch sensors of the device, you hold the (invisible) buttons to sign the transaction.
That's kind of all there is to it.
Benefit
The beautiful screen makes it very easy to use
Comes with USB-C, USB-A adaptability
Comes with a backup memory card
Excellent 2FA options
The application provides everything you need to know to get set up easily, even for beginners in cryptocurrencies
Disadvantage
Far from being a dealbreaker but setting the password is a bit tedious on touch sensors
Verdict
The BitBox02 doesn't do much, but it does everything it needs to. It stores your Bitcoin well. It's simple to set up, even for those who have no prior knowledge (I tested this with my friend, who said that the getting started guide was excellent).
Signing transactions couldn't be simpler. The option of saving in the microSD card (which is completely optional) is also excellent. And the 2FA option is something I like.
To conclude, at a price of $128, this wallet does exactly what it needs and I really don't see anything to dissuade people from buying it. In the current climate, it is vital to take ownership of your coins if you intend to keep them for a long time or own a significant amount of them. Against the countless potential disadvantages of not storing your parts in the cold, an investment of $128 and 10 minutes of your time to set it up are drops in the ocean.
Of course, if you only hold a small amount or do not expect to keep your cryptocurrency for a long time, safer exchanges are suitable. But otherwise, cold storage is simply safer, easier and more sensible. The BitBox02 is designed exactly for this – and it delivers on its promises.
Finally, it's open-source, which is cool. And congratulations to the one who decided to include stickers in the box!